Types of concrete block
Over the centuries, people have transformed and adapted the structures of nature and the caves to become their home, long before they embarked on their journey to create their own home.
The building is not just a house where people live. It is much more than that and it has many components and structures that give the building characteristics, capacity, safety and identity such as: background, walls, floors, stairs, roofs, etc.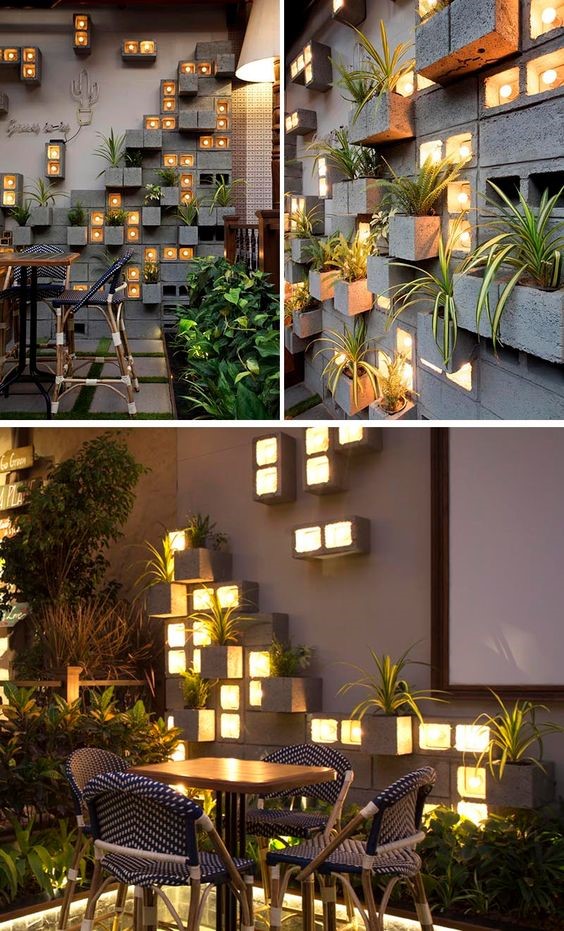 (Source: Internet)
Therefore, the space created in a building is divided into different categories based on its end use such as: living room, bedroom, kitchen, bathroom, toilet, etc., Performed by many different types of construction works.
A building is made up of different combinations of blocks, bricks, stones, etc. And sometimes wood, steel, or concrete is also widely used to create a building.
Some main types of building materials:
Natural stone
Fired brick
Flying ash brick
Concrete block
Concrete block are widely used today because conventional are not environmentally friendly.
Join us to learn everything about concrete block.
What is concrete block?
According to the expression given by David Blockley (author of the new dictionary of construction engineering), a concrete block is a building block made entirely of concrete, which is then linked together to form a permanent structure.
(Source: Internet)
These types of building block bricks can be either 'hollow' or 'solid' constructed of plain or lightweight concrete with different standardized dimensions, depending on specific requirements.
Such concrete block can be used as masonry for load-bearing walls, partitions or panel walls. They are used in an area where there is no brick or stone of the right quality and strength required for masonry and many other elements.
Types of concrete block
These concrete blocks are classified into two main categories:
Solid concrete block.
Hollow concrete block.
Hollow concrete block is used more than solid concrete block because:
They reduce overall weight and are therefore easier to handle.
They can be grouted and reinforced, but easily meet structural requirements and also withstand demanding loads.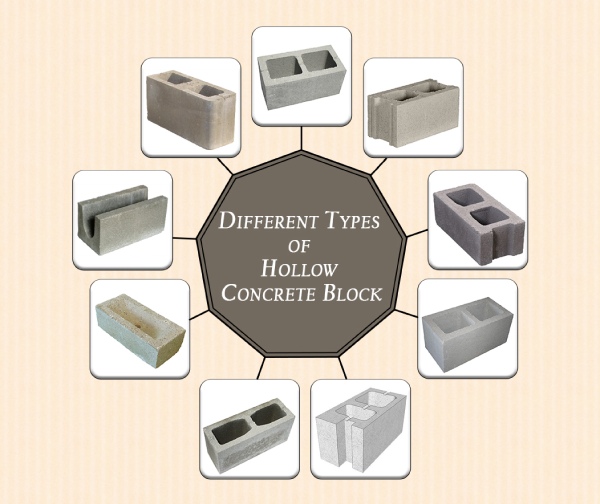 (Source: Internet)
1. Solid concrete block
A brick block with more than 75% of the total volume is concreted, whose overall dimensions are classified as a solid concrete block. It is also known as concrete brick.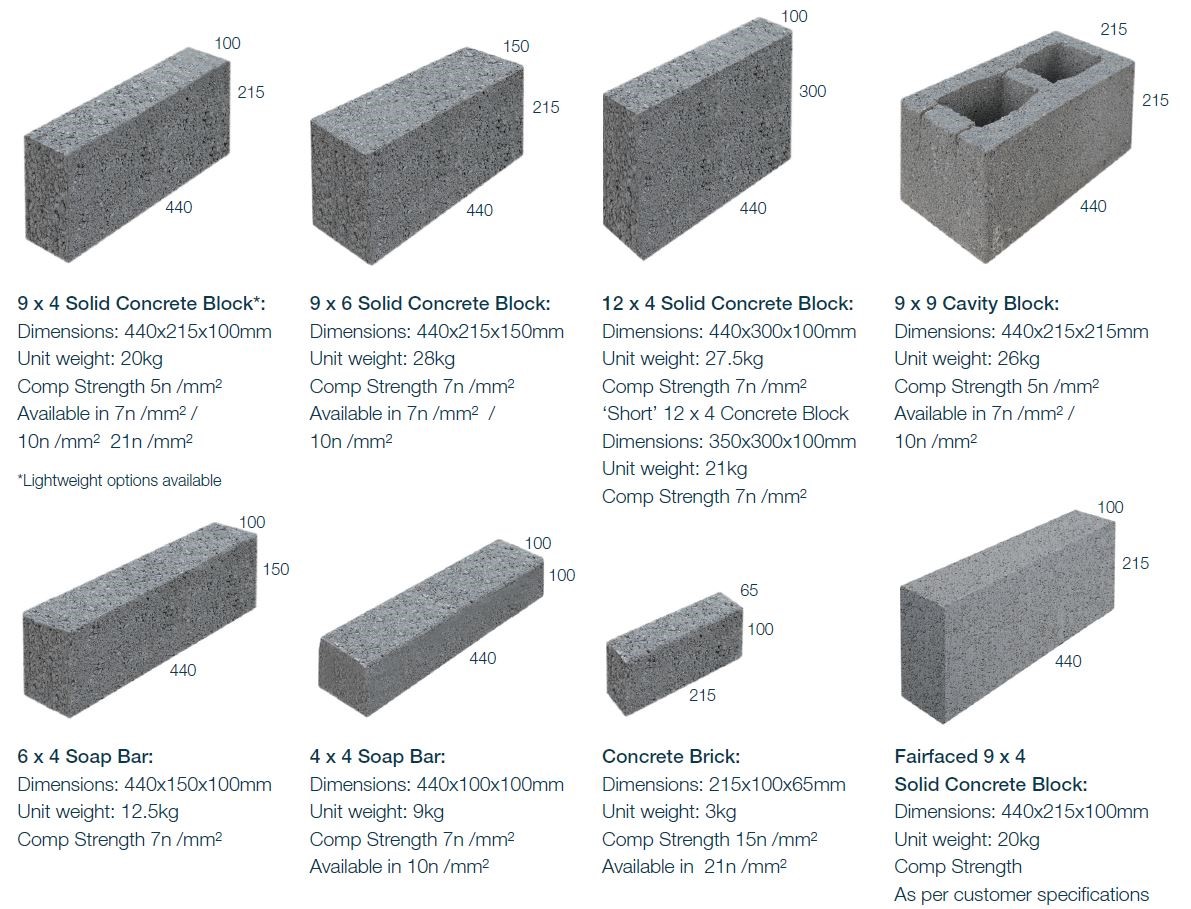 (Source: Internet)
2. Hollow concrete block
A concrete block with solid material within only 50% -70% of the total, calculated from the overall dimensions is classified as a hollow concrete block. Hollow concrete block brick has one or more 'holes' or 'cavities' that can pass through the block (open cavity) or create to reduce its mass without reducing its load capacity.
Hollow concrete block is divided into two categories, types A and B. For type B, they are often considered slag, because coal is the type of aggregate used mainly in its raw materials.
The hollow concrete blocks available on the market come in a wide variety of shapes and sizes. They are often used depending on their position in the wall.
Such as stretch concrete block, lintel block, partition concrete block, concrete pillar block, corner concrete block, Jamb concrete block, Bullnose concrete block, translucent brick block, etc.
(Source: Internet)
General advantages and disadvantages of concrete block
Making the room bigger by increasing the floor area by reducing the wall thickness due to thinner concrete blocks than conventional bricks (6 "(150 mm) or 8" (200 mm) ) versus 9 "(230 mm)).
Provides better insulation.
Protects the interior against noise as it absorbs sound better.
Plus there is fire protection.
Structures with concrete block have a better system, build faster, bear a better load than fired bricks with larger sizes.
Individual units can be made in different custom sizes and shapes. With fewer joints, the mortar consumption rate decreases compared to standard construction, but still enhances the overall building load capacity.
Unlike conventional bricks, the uniform size of concrete block cuts the use of gypsum, thus becoming an economically viable alternative.
If the required raw materials are not available this becomes an expensive proposition.
To produce concrete block quickly and stably, labor needs to be experienced and skilled.
Advantages and disadvantages of solid concrete block
Relatively easy to design these types of concrete block.
These blocks are highly resistant to high winds, storms, floods, etc.
However, the wiring, as well as the in-wall plumbing, is difficult to implement.
Advantages and disadvantages of hollow concrete block
Hollow concrete block does not require extra formwork or any special construction machinery for reinforcement.
Semi-skilled workers can do well.
During earthquakes, a structure built with hollow concrete block without any internal reinforcement is more likely to suffer damage.
Use concrete block
With the above advantages, concrete block are ideal for many houses and other structural works.
Following are some of the applications from concrete block.
1. Walls from concrete block
Partition walls benefit greatly by using various types of concrete block, for quick and easy installation. With reinforcement, this provides additional load capacity for the structure.
Solid concrete block are ideal for building chimneys and fireplaces, but they are just as remarkable as load-bearing walls or garden walls.
Hollow concrete block is widely used for external and internal bearing walls, partition walls, Panel walls, boundary walls (fence walls), etc.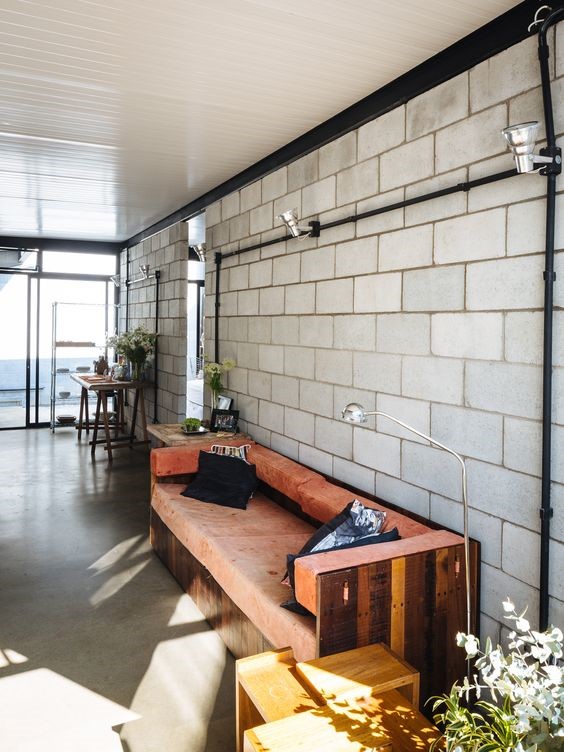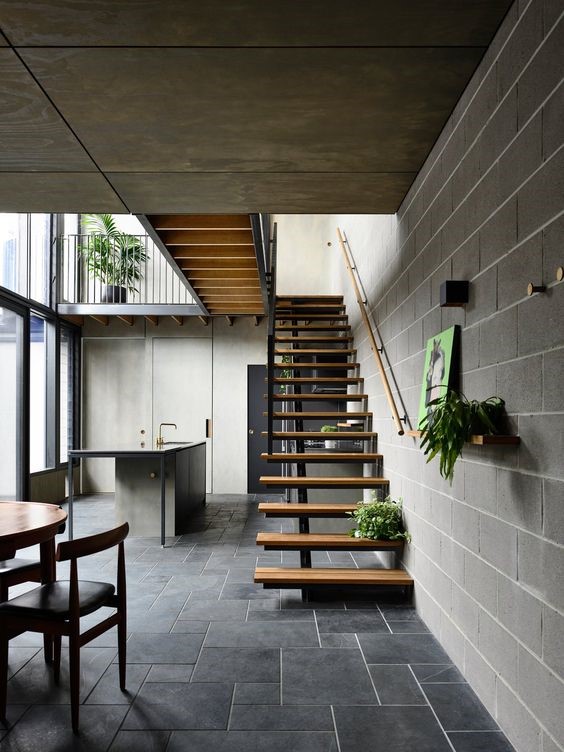 (Source: Internet)
2. Concrete block are used for landscape projects
Concrete blocks are also used in many small landscape projects. For example: outdoor chairs, decorative exterior, outdoor bar, flower bed, many interior designs or outdoor terrace.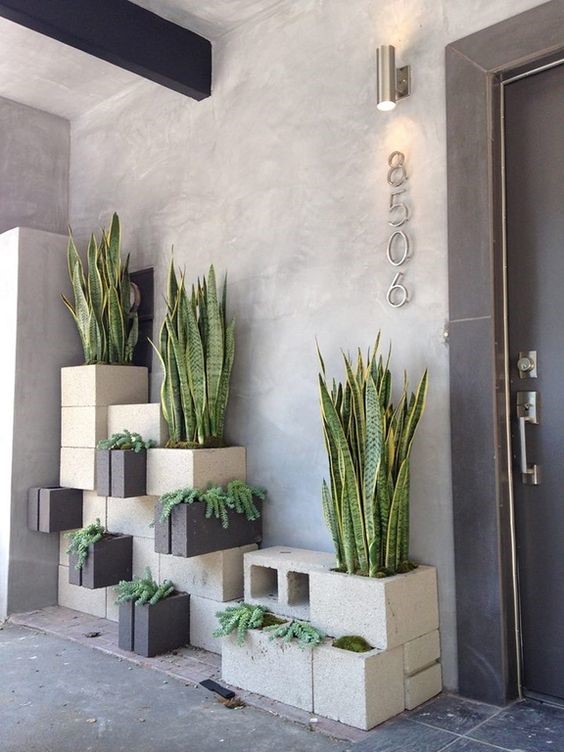 (Source: Internet)
Characteristics of concrete block
1. Dimensions
Length: 400, 500 or 600 mm
Width: 50, 75, 100, 150, 200, 250 or 300 mm
Height: 100 or 200 mm
In addition to the above-mentioned concrete block sizes, they tend to vary greatly based on mutual agreement between buyer and supplier.
(Source: Internet)
2. Density
Density is the mass per unit volume of a substance. It is a parameter to describe matter and the form of a mass with gravity. The density of concrete blocks is:
Solid concrete block (Min): 1,800 kg / m3
Hollow concrete block
Grade A 1,500 kg / m3 (Min)
Grade B - 1,100 kg / m3 and 1,500 kg / m3
3. Compressive strength
Compressive strength is a material's ability to withstand compressive strength. The minimum average compressive strength of the concrete block is:
Solid concrete blocks 4.0 and 5.0 N / mm2 at 28 days respectively
Hollow concrete block
Grade A - 3.5, 4.5, 5.5, 7.0, 8.5, 10.0, 12.5 and 15.0 N / mm2 respectively at 28 days
Grade B - 3.5 and 5.0 N / mm2 at 28 days, respectively
4. Water absorption
Water absorption is the material's ability to absorb and retain water. The water absorption of concrete block must be less than 10% by weight.
5. Shrinkage on drying
The drying shrinkage of concrete block must be less than 0.06%
6. Humidity transposition
The movement of moisture occurs because the material often expands or contracts as a result of expansion and contraction. The moisture content of concrete block must be less than 0.09%.
Raw materials for the production of concrete block
The basic raw materials required to produce concrete block are:
The types of cement used to manufacture concrete block are Portland cement, Portland cement slag, Pozzolana cement, etc. It should be in accordance with the respective standard codes.
(Source: Internet)
Aggregates of various types have been used and these include gravel, grit, clinker, crushed stone, etc.
The strength, structure and price of concrete block depend on the careful distribution of the aggregate. The combined aggregate classification must comply with the requirements of the different countries' standards.
As a basic material and indispensable when producing concrete block.
The additives or additives used in the manufacture of concrete masonry are:
Water reducer, accelerator, air-absorbent and super-flexible, fast absorbent in accordance with the standards and requirements of the use.
The production process of concrete block :
The production of Concrete Blocks includes the following basic stages:
(I) Proportional distribution:
The proportions of the material are obtained according to the standards as well as requirements for use.
(ii) Mixing:
Mixing of the ingredients must be done precisely and mixing must be done in one mixture to achieve a homogeneous mixture. Mixing will be continued until the uniform distribution of the materials is obtained.
(iii) Compress:
Block must be compacted by vibrating compaction and finished to the appropriate size without any broken edges.
(iv) Maintenance:
Block must be cured in a cured water tank or curing yard and must be kept continuously moist for at least 14 days. When the blocks are cured in the immersion tank, the water in the tank should be changed at least every 4 days.
(v) Drying:
After curing, the Blocks are dried for 2/3 weeks and only after that, they become suitable for various purposes. If you don't follow it, cracks are most likely to appear on the wall.
Producing concrete block
Factories are now fully automated to produce high-strength concrete blocks. These automatic machines create the superior quality of concrete block, but the investment costs are very high.
(Source: Internet)
Manual machines are also available and can even be installed on the project site. This will reduce the cost of transporting concrete block from the place of production to the actual use.
Final
As can be seen, there are many construction units from which architects, owners or engineers can choose the most suitable type for their project.
The main consideration when choosing the brick unit to use in particular is:
Availability of materials
Reliability
Dimensional stability
Resistance to rain penetration
Fireproof rating
Thermal properties
Architectural style
Economy in costs.
Block concrete block are widely used in construction works throughout the country as well as in the world today. Its properties such as durability, structural stability, fire resistance, heat insulation and sound absorption make it suitable for a wide variety of applications.
Others:
We will have experts' opinions on hotel performances and reopening plans, how we can learn from Thailand's reopening, latest trends including Metaverse, contactless devices in hospitality industry and design trends. Then we will also go through some destinations in Vietnam such as Da Nang and Mui Ne and have a talk on hospitality education!
More